Intimate Wedding Venues
Paul and Georgiana Keane offer their idyllic 97 acre estate – Inish Beg – for your exclusive use for your wedding celebrations.
Availability
Inish Beg is available for weddings at any time of year except from mid July until late August. A minimum stay of two nights is required (or three nights on Bank Holiday weekends). One night wedding bookings with more than 50 guests are catered for from November to March (excluding Christmas, New Year & Easter where a minimum three night stay applies).
Apart from many mid week dates, weekend availability is currently:
We host weddings of all sizes, from 2 to 350 guests of which up to 52 can be accommodated on the estate with other accommodation nearby.
Our rates are very reasonable and a great saving can be made as you can bring in your own drinks without any corkage charge

Every wedding at Inish Beg is designed around your wishes. We supply the venue and you create your unique celebration.

Civil/Humanist/Interfaith & Church Weddings
Inish Beg is registered with the HSE as a venue for civil/humanist/interfaith weddings and civil partnerships. Ceremonies can take place in a variety of beautiful outdoor locations on our extensive the grounds. Alternatively an indoor ceremony with up to 130 guests can take place in The Boat House or a ceremony with up to 250 guests can be held in our new venue - The Octagon Marquee close by. A wedding meal and evening reception for up to 175 guests can take place in The Octagon Marquee. Weddings with more than 175 guests can take place in a hired-in marquee ( location fee payable ).
HSE Civil Registrars conduct wedding ceremonies Monday – Friday only. However, a registered humanist minister or inter-faith minister can officiate at your legal wedding ceremony on any day of the week if preferred.
Roman Catholic, Church Of Ireland & Methodist Churches are all within a 4 mile radius of Inish Beg.
Exclusivity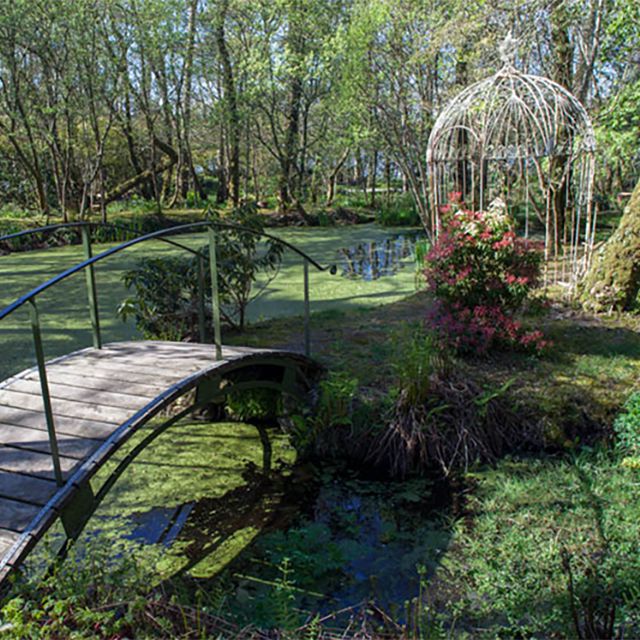 You and your guests will enjoy the exclusive use of the estate facilities on your wedding day. The ten self-catering properties on the estate will accommodate up to 48 people in total. There is extensive accommodation of all kinds within a 1 to 4 mile radius which can cater for any guests who cannot be accommodated here and taxis are available locally.
The Boat House and slipway, the Walled Garden, the Sunken Gardens, the Woodlands and Landscaped Gardens provide the perfect scenic locations for stunning wedding photography.

Hannibal's H2O
This woodland pond with picturesque arched bridge leading to the little island at its centre, is a very popular location for wedding ceremonies. As featured on One Fab Day
The Walled Garden

The sunny & sheltered walled garden with its vibrant flower beds, myriad paths and garden benches is another ideal location for outdoor wedding ceremonies and drinks receptions.

The Boat House

The Boat House is a perfect location for an indoor wedding ceremony for up to 130 guests (April - October) or for intimate wedding receptions of 50 or less - only catered for November- March excluding Christmas/New Year/Easter and midweek at other times of the year.
Octagon Marquee
Indoor ceremonies for up to 250 guests can be held in our stunning new venue opposite the Boat House.
This purpose built wedding venue caters for wedding receptions of up to 180 guests.
Hired-in Marquee
For larger wedding parties the wedding reception can take place in a hired-in marquee in a specially designated waterfront setting on the estate. (Location fee applies.)
Wedding Car
A vintage Bentley from the Inish Beg Collection can be provided to transport the bride and groom between Inish Beg, the church or ceremony and the reception venue here. We also have buggies available to transport guests around the estate.The cost depends on the time and mileage involved.
Wedding Viewings
If you are considering Inish Beg as the location for your wedding celebrations we will be delighted to show you and members of your family around the estate and discuss your wedding ideas with you.
Self Catering Accommodation
There are ten rental self-catering properties at Inish Beg. Accommodating up to 52 people total (48 on beds, 4 on sofa beds).
Catering
Arranging a bespoke wedding can seem daunting but don't worry as we are here to help. If you wish, you are welcome to make all the necessary arrangements yourselves – for example, marquee hire (if required), catering, bar, flowers, music, photography, etc. We would also be happy to offer you assistance and can give you details of suppliers who have worked here before. There are many options to create your unique wedding here at Inish Beg within a budget of your choice.
Bar - Wine & Drinks
You are most welcome to supply your own wine/champagne/alcohol. We have no corkage fees (which can be a massive saving). A bar service can be arranged at a cost of €150. Please do not hesitate to contact us to discuss your requirements.
Activities
If you or your guests would like to pursue any activities during your stay, we can arrange; power boating, yachting, sea kayaking, angling, whale watching, scuba diving, island trips, golfing to name but a few.
Should you or members of your family wish to visit Inish Beg we would be happy to show you around the estate and our facilities to discuss your wedding ideas with you.
We hope to be able to welcome you and your guests to Inish Beg for your wedding celebrations.