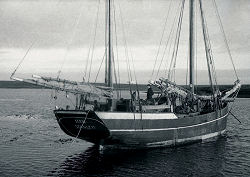 Boat Restoration
The restoration of The Ilen, Ireland's last coastal trading boat in existence, is being undertaken at Hegarty's boatyard at Oldcourt just two kilometres away from Inish Beg.Built at the Fisheries School in Baltimore in 1926, The Ilen spent seventy tough years in the Falklands transporting sheep and cattle between the islands before returning home to Baltimore in 1998.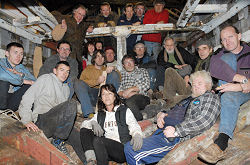 The Ilen – its history
The story begins with Connor O'Brien (1880-1952) whose ketch, the Saoirse, took him on a circumnavigation of the world between 1923 and 1925, becoming the first Irishman to achieve this feat. On this journey he stopped off at Port Stanley in the Falkland Islands. The islanders were so impressed at the way the Saoirse rode the waves that they asked O'Brien to have built a similar boat.The Ilen, named after the river and estuary whose mouth is at Baltimore, was built in the same boatyard by the same builders to the same type as the Saoirse and registered at the port of Skibbereen in February 1926. She was 56 feet in length overall with a beam of 14 feet and a displacement of 45 tonnes.Connor set sail in August 1926 with two Cadogan cousins from Cape Clear, arriving at Port Stanley in January 1927 and handed it over to the new owners, The Falkland Islands Company, in exchange for £1,500. There she remained ploughing between the islands with a cargo of stores, mail and sheep as well as ferrying passengers. She stayed in service until the early 1990's.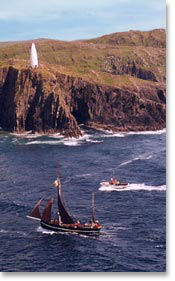 The Ilen – its return to Baltimore
The logistical problems of shipping the Ilen back to Ireland having been solved, the Hunt Museum provided the funds and the Ilen was hoisted on to the MV Angeliki, a Russian cargo ship, in October 1997 and discharged in Dublin one month later. In June 1998, Gary McMahon, the prime mover in the return of the Ilen, sailed the ketch with skipper Paddy Barry and six others from Dublin to Baltimore under sail where she was greeted by a huge crowd. She was back home after 72 years.
The Ilen – its restoration
In the magnificent boatshed at Hegarty's boatyard at Oldcourt, the Ilen is being restored.The refitting of the Ilen is now being used as an opportunity for people to experience first-hand the skills of wooden boat building through a series of five-day workshops in which anyone can apply to take part. The first, which took place at the beginning of November 2008, began with a talk by Glenstal Abbey forester Brother Anthony Keane on the types of timber used in boat building, and an introduction to wooden boat construction by Liam Hegarty and Gary McMahon.
Further five-day workshops are planned for 2009 – see the project websites:
Gary can be reached by e-mail or at +353 (0) 86 2640479. Why not stay at Inish Beg while attending one of these workshops?